Consuming Eggs Helps in Protein Synthesis
After a strenuous session of workout, your muscles build protein through the process of protein synthesis. Eating eggs after a workout session provides protein to your body in order to fuel the protein synthesis process. Many people throw away the egg yolk and consume only the egg white after their workout session. However, a study found that egg yolks contain protein and other nutrients, which are not found in egg whites. In short, eating egg yolks boost your body's protein synthesis.
Eggs are widely considered to be a perfect protein source. Proteins are the building blocks of life, essential for the strength and repair of muscle and tissue – with one single egg containing about 6.3 grams of the highest-quality protein available.
The powerful advantage of the protein in eggs links to the fact that eggs contain all nine essential amino acids – in sufficient amounts – to support effective muscle growth, recovery, and maintenance.
While some other foods contain proportionately more protein than eggs – the high-quality and bio-availability of protein in eggs is truly second to none.
A Rich Source of Vitamins
Eggs are not only a rich source of proteins but also a number of vitamins. In addition to 6 grams of protein, eggs are also a storehouse of Vitamin A, E, K, B12, riboflavin, and folic acid. Hard-boiled eggs are a healthy food option, which also contains essential amino acids needed for muscle recovery and building minerals such as calcium and zinc.
An average serving of 2 eggs contains:
82% of your daily vitamin D requirements
50% of your daily folate requirements
25% of your daily riboflavin (Vitamin B2) requirements
40% of your daily selenium requirements
Eggs also contain useful amounts of vitamins A, E, B5, B12, as well as iron, iodine and phosphorus – all vital nutrients in supporting your healthy, balanced diet.
Source of Good Fat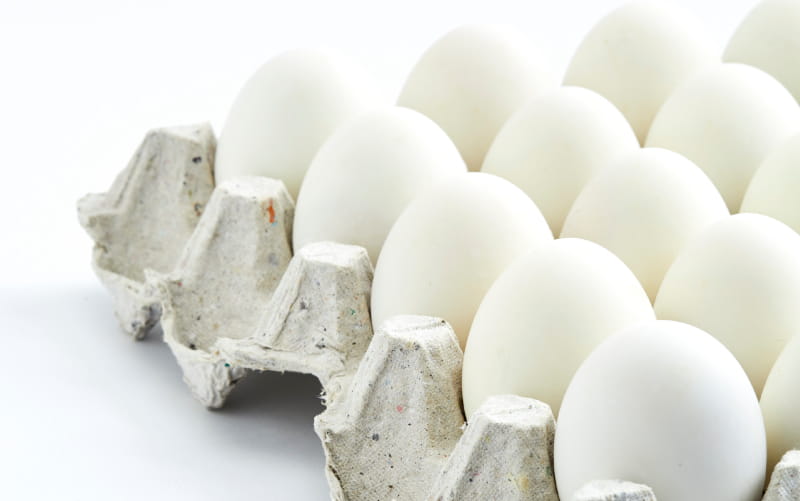 A common myth about eggs is they contain fat, which is harmful to your health. Egg whites contain no fat at all whereas the yolk contains 5 grams of fat. However, the yolk contains only 1.6 grams of saturated fat (bad fat). Bodybuilders looking for muscle gain need fat in foods, especially at a time when the energy requirement is high. Eggs also contain diary cholesterol, which doesn't increase blood cholesterol levels.
Eggs help increase high-density lipoprotein (HDL) levels – or "good" cholesterol as it's commonly known – and this is one reason why eggs have been found to have little to no effect on heart disease risk.
It's low-density lipoprotein (LDL) –  or "bad" cholesterol – that can put heart health at risk. Meals high in saturated fats and trans-fats such as deep-fried takeaway foods are the key culprits when it comes to increased risk levels of LDL cholesterol.
Last Few Words
You already know that it is important to include proteins in your diet after a workout session. However, instead of drinking shakes after a workout, which may not provide the desired results, you can have a helping of boiled eggs. The shakes that you drink don't contain a balance of the essential nutrients that you need after a workout session. Loaded with all the essential vitamins and protein, eggs are all you need for muscle build-up. Easy to prepare, eggs are a simple means to increase nutrient intakes for older people, in turn helping to reduce the risk of a wide range of deficiencies and conditions.
A balanced diet can go a long way toward supporting stress reduction and better mental health practices – both reducing the impact of symptoms and optimising greater performance.
And when it comes to the headstrong benefits of eggs – the combination of Vitamin B2, B12, choline, iron and tryptophan are all associated with helping reduce the risk of anxiety, symptoms of depression and naturally aiding sleep.